Let's Learn About The Lemon Cherry Gelato Strain
With the explosion of the cannabis industry, there are an insane amount of different strains available. With this many different variations of products on the market, it can be difficult to know what is what.
Have your recently purchased (or thought about purchasing) the Lemon Cherry Gelato cannabis strain? Do you simply want to learn more about different cannabis strains? Either way, you are in the right place.
Today we want to tell you some fun facts about Lemon Cherry Gelato. If you have any experiences with this strain, be sure to let us know your thoughts on social media.
SHOP: Kushy Dreams CBD Pre-Roll 5 Pack (Energy Effect)
Fun Facts About The Lemon Cherry Gelato Strain
Lemon Cherry Gelato is a hybrid strain, meaning it gives you the best of both worlds when it comes to Sativa and Indica effects.
The average THC in the Lemon Cherry Gelato strain is in the mid-high range (23-25%).
Lemon Cherry Gelato was created by Backpackboyz.
Lemon Cherry Gelato was bred using Sunset Sherbet, Thin Mint Girl Scout Cookies, and Lemon Haze.
Many users of the Lemon Cherry Gelato strain report a berry citrus taste with a citrus aroma. Backpackboyz describes it as "a sweet, sherbet-like flavor".
The major terpene in this strain is Caryophyllene, known for creating a peppery flavor and aroma.
Lemon Cherry Gelato's effects are described as both calm and energetic. This is a great strain for settling down while maintaining productivity.
Backbackboyz recommends Lemon Cherry Gelato for headaches and general aches and pains.
The nugs of this strain are known for their deep green buds with light-tipped leaves.
The average price for an eighth of Lemon Cherry Gelato is in the low-mid range ($40-$50). It is currently available on Backpackboyz's official website for $40.
RELATED: 10 Fun Facts About The Mac 1 Cannabis Strain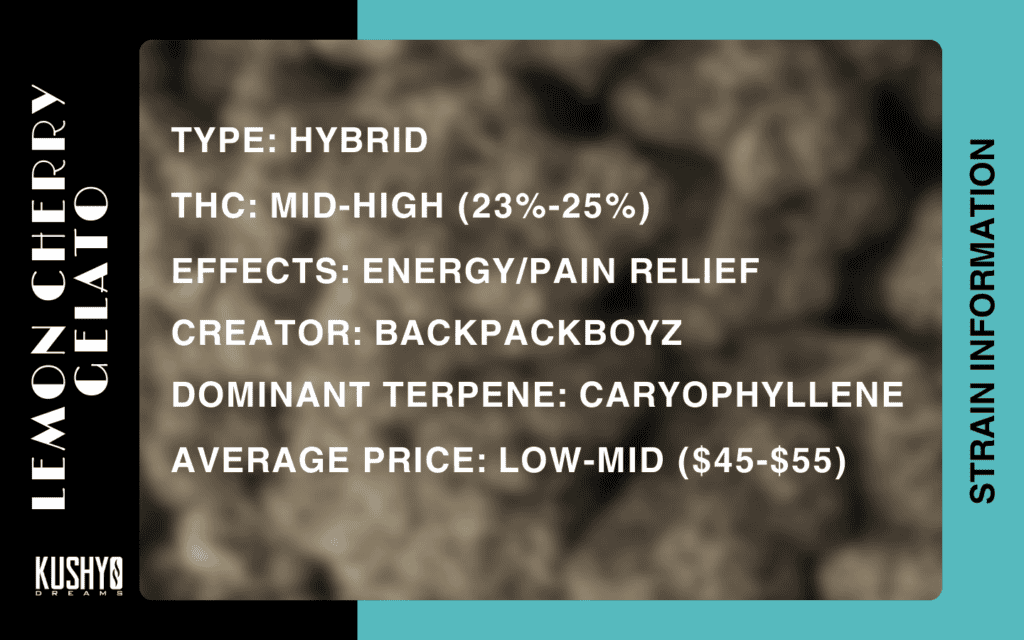 Have You Ever Tried Lemon Cherry Gelato?
We hope you learned a lot from our list of facts about the Lemon Cherry Gelato strain. Have you ever consumed cannabis or cannabis products containing this strain? Let us know on social media!