About The Garlic Knots Strain
I have heard that there are cannabis strains that taste like garlic. That said, I have never had the chance to purchase any of these strains…until recently. A few weeks ago I picked up an eighth of Garlic Knots from my local dispensary. I was very excited to give it a try.
I was not disappointed. These nugs were so frosted it looked like there were garlic-parm sprinkles on them. Like most strains distributed by Electraleaf, the packaging is hilarious and spot-on. It boasts an Italian flag with a font that just screams 'hometown pizza shop'.
Now, I had a lot of people get weirded out when I told them about this strain. I feel like people are too used to artificially-flavored cannabis vapes. Flower smokers will tell you that 'flavored strains' don't actually taste exactly like the food. They have similar fragrance and flavor notes to the food, similar to how you could say a wine has 'nutty notes' even though it does not contain nuts.
Garlic Knots really delivers in this regard. It does have a garlic/spice flavor profile. I would guess that its dominant terpene is caryophyllene, known for giving cannabis a "spicy" flavor reminiscent of black pepper. It doesn't taste like pizza, but it is pretty delicious.
Honestly, I wouldn't have known this was an Indica if I didn't read the label. Garlic Knots gave me a smooth and clean high that I would expect from a premium cannabis brand. I actually have the last nug saved for a rainy day.
Overall, I thought this strain was amazing. I am definitely going to pick up some more the next time I see it. Huge shout out to ALTVM and Electraleaf New York for breeding and cultivating this awesome smoke. Anyway, that is just my personal experience, let me give you some fun facts about the Garlic Knots strain.
SHOP: Kushy Dreams CBD Hustle Pre Rolls (5 Pack)
6 Fun Facts About The Garlic Knots Strain
Garlic Knots is an Indica strain, meaning its effects are primarily on the body. This is great for general relief and relaxation.
Garlic Knots was bred by ALTVM, a cannabis cultivation company from Edmond, Oklahoma.
This strain was provided by Electraleaf, a cannabis company from Ithaca, New York.
The THC percentage of this strain is in the high range (20-25%). The eighth we had was labeled as 22.5%.
Garlic Knots is a crossbreed of Kush Mintz and Garlic Breath.
Electraleaf New York describes the aroma of this strain as garlicky and piney with notes of coffee.
RELATED: 7 Fun Facts About The Ice Cream Cake Strain (Cannabis Information)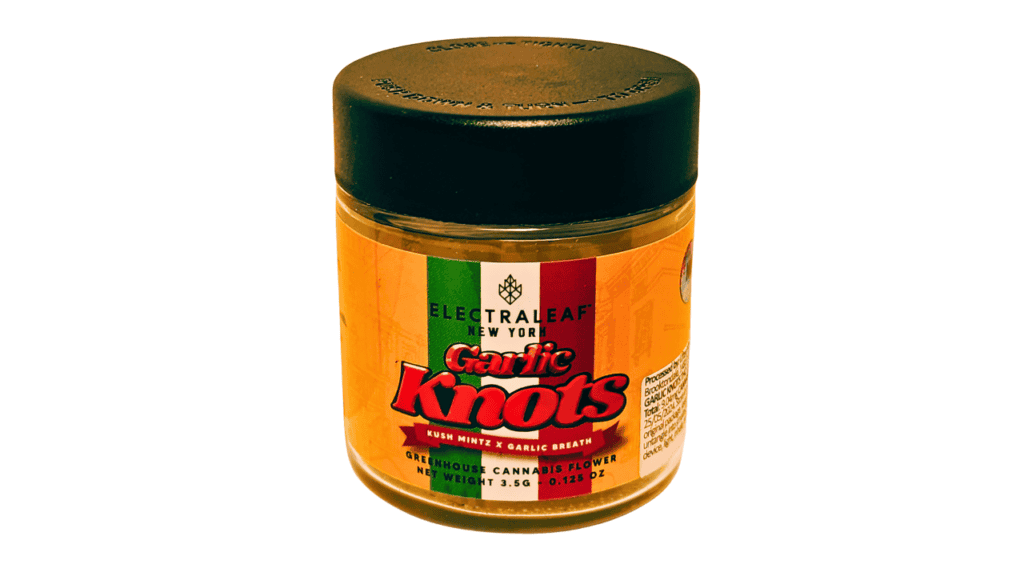 Have You Ever Tried The Garlic Knots Strain?
We hope you enjoyed our review and breakdown of the Garlic Knots strain by ALTVM and Electraleaf New York. This is one of our new favorites! Have you tried this indica cannabis strain before? Let us know your experiences on social media!
RELATED: 7 Fun Facts About The Cinex Strain (Cannabis Information)