21+ Only
THCA Pre-Rolls are here and they're shipping now.
But what is THCA? 
The Cannabis plant has dozens and dozens of cannabinoids (such as CBD and D8 THC.) Another one of them is THCA (tetrahydrocannabinolic acid) and iIt is the precursor to THC (tetrahydrocannabinol), the well-known psychoactive compound responsible for the "high" associated with marijuana use. In its raw form, THCA does not produce the euphoric effects commonly associated with THC.
However…
THCA undergoes a process called decarboxylation when exposed to heat, such as through smoking or vaporization, converting it into THC.
That's right: just add fire. 
Full Gram Pre-Rolls
Our two newest products are Indica and Sativa THCA pre-rolls featuring sunlight-grown cannabis flower.
The Indica features 199mg of THCA per pre-roll and the Sativa features 201mg of THCA per pre-roll. More information on cannabinoid content can be found in these third-party lab tests.
These are rolled in hemp paper and filled with full flower cannabis. Their burn is smooth, even, and wonderful. We now possess a limited supply that what could run out by the end of the year.
We hope you'll enjoy the great art on each label and also what happens when you just add fire.
Is THCA legal in the United States?
Our THCA pre-rolls are derived from hemp and under 0.3% Delta-9 THC and are compliant under the 2018 US Farm Bill.
The bill removed hemp as a federally controlled substance and made way for the legal cannabis industry that we have today with CBD, Delta-8 THC, and more. It did so by legalizing hemp-based cannabis products at the federal level.
RELATED: What Is The Farm Bill And Why Is It Important?
During March you'll get rewarded for shopping with us…
Two Options
Make a $100+ purchase and we'll send you a voucher good for $30
Make a $150+ purchase and we'll send you a vouchers good for $45
Then What?
Vouchers will be emailed to you within 48 hours of purchase (from Noah at KushyDreams)
They can be used on orders of $50+ (for $30 voucher) or $75+ (for $45 voucher) and they're good until 6/1/23.
___
Related: New Drop – Winter 23 Collection
We want more people to know about our happy customers.
That's why we're asking if you could please leave us a Google Review about your positive experiences with our products.
To show our thanks for leaving us a Google Review we're going to give you a special code for $10 off any order!
Here's what to do claim your free voucher:
1. Leave a Google Review here. Feel free to include photos if you have them
2. Email us a screenshot of it to Noah@KushyDreams.com
3. We email you your free $10 store credit that comes with no strings attached!
Kushy Dreams x Bonfire | KushyDreamsApparel.com
We have a new drop and this one is something different.
It's clothing (so please don't try and smoke it.)
We've partnered with Bonfire, a great custom merch provider. They allow us to offer a variety of high-quality apparel that's cost-effective for everyone. That means you can choose from a variety of colors in tank tops, t-shirts, hoodies, and more.
BONUS: For every clothing order on Bonfire we'll email you a Free $15 Off voucher for our site that's good on anything and everything.
The Winter 23 Collection features four design options: logo variations and our Gutter Cat. We think you're going to like them.
Winter 23 Collection (Logo Variations)
Choose from the Kushy icon logo in either black or white on a variety of clothing in a number of colors. You can rep your love for the best in legal cannabis.
Winter 23 Collection (Gutter Cat Gang)
These feature the cat from our Limited Edition Artist Series featuring art from the Gutter Cat Gang. This is Gutter Cat #1648 (from the Alien Gang.) Out of the 70 cats in existence with alien green fur, Cat #1648 really struck us as a perfect brand ambassador because of his aesthetic and his obvious love for joints.
(If you haven't purchased the Limited Edition Artist Series there are still a few left here) 
We'd love to hear your feedback and see you in these threads so make sure to reach out, tag us, tweet us, etc. We'd love to share your pics and get your thoughts.
And don't miss out on your chance to get a free $15 voucher for your next order of the best in legal cannabis.
– Aaron, Founder/CEO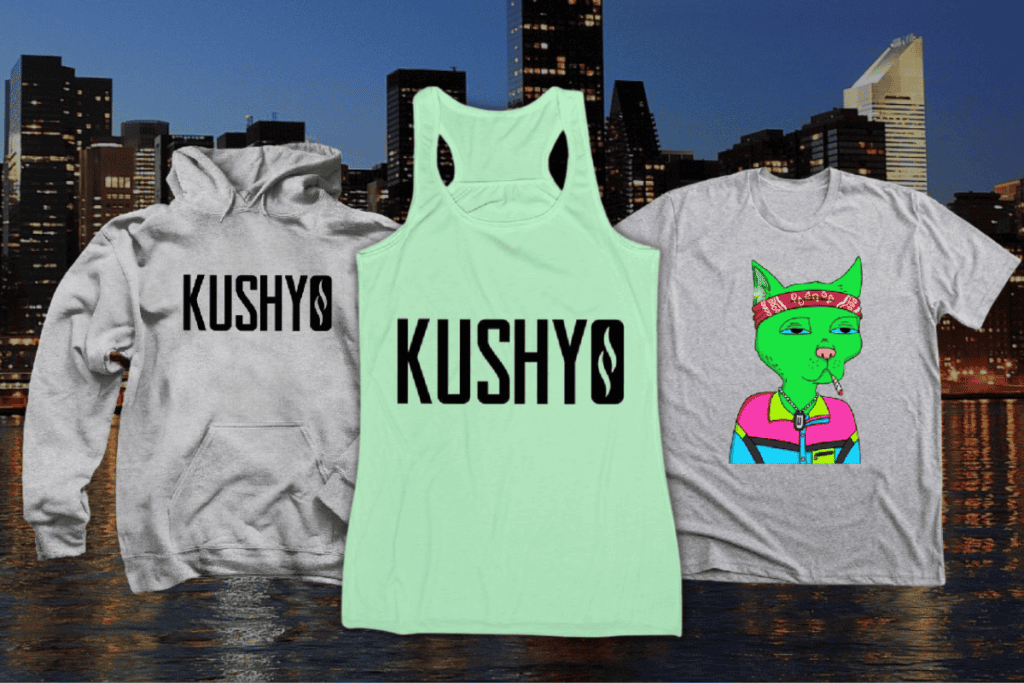 The results are: you loved THC, CBD, D8, pre-rolls, flower, and gummies
2022 was an exciting year here at Kushy Dreams. We launched new products, threw some parties, made new friends, had some fun giveaways, slashed some prices, dropped some knowledge, and stayed blazing.
Here are the top six cannabis products you purchased the most this year:
Our full-flower CBD pre-rolls remain fan favorites. These half-gram indica pre-rolls are good for when you're on to move or you don't have enough time to smoke a full gram joint. These are popular all year because It's always indica season.
These come in great-looking resealable mylar bags that feature art from two NFT series: Gutter Cat Gang & Gutter Dogs (Alien Cat & Alien Dog.) There are two bags: one contains 10 Strawberry Delta-9 THC gummies and the other contains 10 Sour Watermelon THC Gummies. That's a total of 200mg of THC. These are limited edition but we still have some left.
These full-gram joints feature 125mg of CBD in each one. They're rolled in hemp paper and feature a slow, smooth burn. Dream pre-rolls are pure comfort.
Delta-8 THC is a psychoactive substance found in the cannabis plant. Our indica D8 strain is both calming and euphoric. Like the CBD pre-rolls, these are rolled in hemp paper and burn great.
Just like the Peace 5-Packs, the Peace flower is a best seller. This ounce of indica hemp flower comes in a resealable mylar bag that looks great on the shelf.
People love to chill but sometimes life calls and you need to get stuff done. That's where this sativa strain comes in. This indoor-grown flower is 1/8th of an ounce and will uplift your spirit.
Curious to learn more about these products? Here are some frequently asked questions:
What is a pre-roll?
A pre-roll is a pre-rolled joint or cigarette. In general, pre-rolls are better than what most smokers can make on their own, even if they have a rolling machine and good papers. Pre-rolled joints are easy and convenient for people who smoke marijuana or who smoke any form of hemp. They are super convenient because all you need to do is take one out of the tube and light it up.
What is CBD again?
CBD (cannabidiol) is a non-psychoactive cannabinoid naturally found in cannabis. Of the more than 100 cannabinoids known to exist in cannabis, CBD is by far one of the most researched substances. It's one of at least 85 active substances found in cannabis plants, and it's increasingly gaining popularity with people looking for alternative methods of daily wellness and to make life feel a little smoother.
Similar to THC, CBD is absorbed by the body through the endocannabinoid system, a group of cannabinoid-friendly receptors that regulates immune function, sleep patterns, and reproductive health. However, unlike THC, CBD does not bind to the main CB1 and CB2 receptors in the body; instead, it functions to control how these receptors and cannabinoids interact.
Are your CBD pre-rolls "full spectrum"?
Yes. Our pre-rolls are full-spectrum because they are full flower and not CBD isolate.
What are full flower joints?
Full flower is exactly what it sounds like: the entire bud is in there. It's not an extract nor is it just one part of the flower. In each pre-roll you can enjoy many cannabinoids and many parts of the plant.
How much CBD is in a pre-roll?
Our pre-rolled joints have either 0.5g or 1g of cannabis that has been ground up. If it's more than that, it's usually called a blunt and usually uses thicker paper to keep it all together. Pre-rolls that are closer to the 0.5g end of the size range are often easier to use because a person can easily smoke the whole thing in one session. Lab reports are available to see exact quantities.
What is Delta-8 or Delta-8 THC?
Delta-8 THC (Delta-8 tetrahydrocannabinol) is another cannabinoid found in cannabis. It is becoming more and more popular because it is similar to the most well-known cannabinoid in cannabis: Delta-9 THC. Delta-9 THC is what has made marijuana so popular. It's known for causing euphoria, happiness, the munchies, relief, laughing at dumb stuff, and more.
Are Delta-8 pre-rolls like CBD pre-rolls?
The primary difference is intoxication: Delta-8 pre-rolls are psychoactive and CBD pre-rolls are not. Where they are similar is that our KD8 Delta-8 pre-rolls contain high levels of CBD.
Is Delta-8 the same as CBD?
No. CBD is a cannabinoid that doesn't get you high and has mildly relaxing effects, while delta 8 is basically the same thing as "regular" THC. Delta 8 will definitely get you high, but CBD will not get you high, even if you smoke it. From a legal point of view, CBD and delta 8 are both considered industrial hemp covered under the 2018 Farm Bill. However, some states and local areas have taken steps to limit the sale of Delta-8 for different reasons.
What is the difference between Delta-8 THC and Delta-9 THC?
The difference between Delta-8 and Delta-9 is that, while similar, D8 is said to be smoother and milder than standard marijuana (this is as much a warning as a prediction.) Many people prefer these smoother, milder effects as Delta-8 is a weaker intoxicant. But enough about Delta-9. We're here to talk about Delta-8 and CBD.
Is Delta-8 legal where I live?
Federally in the United States, Delta-8 that is sourced from hemp (like ours) can be legally grown because of the 2018 Farm Bill. However, there may be additional restrictions at your state or local level. However, cannabinoid legality at the state and local level is regularly changing. Please check your local laws and restrictions before ordering.
Does the Artist Series come with actual NFTs?
They come in limited edition collectible mylar bags that feature NFT art on the front. Purchases do not come with any digital products.
What's the Gutter Cat Gang premise?
Here's how they explain it: "The year is 2050. Humans are an interplanetary species and have all but abandoned the post-apocalyptic shatters of society on earth. Cats have taken over. One crime-ridden, nondescript inner city is inhabited by a group of cats collectively known as the Gutter Cats. This is their story."
___
Related: Guide To Delta-8 Pre-Roll Strains
Related: FAQ Limited Edition Artist Series
It's Black Friday Week! Time for Black Friday, Small Business Saturday, and Cyber Monday.
Free Shipping All Week
From now until Cyber Monday night at 11:59p PST you can save up to 64% on the finest in legal cannabis. We have three main deals and you get free shipping on everything (with no order minimum.)
Whether you want to get some rest, enjoy your energy, or catch a little buzz… we've got something for you.
40% Off Your Favorites
Take 40% off HC Gummies, Delta-8 Pre-Rolls, and the Artist Series with Promo Code: BLACKFRIDAY.
THC Gummies: They're delicious, high in Delta-9 THC, and available in four euphoric flavors.
Delta-8 THC Pre-Rolls: Full-gram joints high in Delta-8 THC available in three strains: Indica, Sativa, and Hybrid.
Limited Edition Artist Series: Featuring NFT art from the Gutter Cat Gang, Gutter Dogs, and Gutter Pigeons (Puffer Gang) collections with THC Gummies and Delta-8 THC Pre-Rolls.
Enjoy variety with edibles, flower, and pre-rolls. Available in Small, Medium, Large, and Extra Large. The bigger the pack, the bigger the discount. No code needed.
Buy 1 Get 1 Free – CBD
Good on all CBD products. And each offers six different moods. That includes:
No discount code is needed on BOGO CBD.
Happy Holidays!
___
Related: CBD Pre-Rolls vs. Delta-8 Pre-Rolls
Related: Sampler Bundles Are Here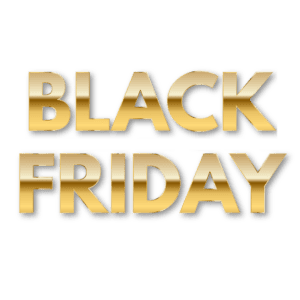 Sampler Bundles are your way to try a little bit of everything.… while saving up to 64%.
That's the biggest savings we've ever offered.
They include CBD pre-rolls, CBD hemp flower, Delta-8 THC, pre-rolls, CBD pre-rolls, Delta-9 THC gummies, and even our new Artist Series. Sampler Bundles come in Small, Medium, Large, and XL. Each size offers something different too while featuring both indica and sativa strains.
Since the savings is so massive on these promo codes do not apply.
For smokers who want to experience a variety of pre-rolls and a little flower.
Includes five items:
2x CBD Pre-Rolls: Dream & Hustle
2x Δ8 THC Pre-Rolls: Indica & Sativa
1x Premium CBD Flower: Create
All pre-rolls are a full gram each and CBD cans are 1/8th oz.
For smokers who want to experience a variety of pre-rolls.
Includes six items:
2x CBD Pre-Rolls: Dream & Hustle
2x Δ8 THC Pre-Rolls: Indica & Sativa
2x 5-Packs: Peace & Energy
5-Packs contain half-gram CBD pre-rolls.
For cannabis lovers who want to smoke and enjoy some edibles.
Includes eight items:
2x CBD Pre-Rolls: Dream & Hustle
2x Δ8 THC Pre-Rolls: Indica & Sativa
2x 5-Packs: Peace & Energy
2x Artist Series THC Gummies: Gutter Cat & Gutter Dog
The gummy flavors included are Green Apple and Sour Watermelon.
For cannabis lovers who want it all.
Includes 11 items:
4x THC Gummies (all four flavors)
Artist Series Puffer Bag with 3 Delta-8 Pre-Rolls
2x Ultra Premium CBD Cans: Energy & Relax
2x 5-Packs: Peace & Energy
Which size is for you?
___
Related: CBD Pre-Rolls vs. Delta-8 Pre-Rolls
Related: New Drop – Limited Edition Artist Series
For You: $15 Site credit
November 11 is Veterans Day and we honor all military veterans of the United States Armed Forces.
We appreciate your service and want to give back to you and your families. If you or an immediate family member are former or active military please send us an email HERE and as a token of our gratitude we will send you a $15 voucher that can be redeemed on anything on the site this weekend.
This offer is for active duty, veterans, reserves, guard, and retirees from all branches of the U.S. military and their families.
Please email us here and we'll get back to you ASAP with your special code.
Thank you for your service.
-The Kushy Dreams Team
___
Related: Is Delta-8 THC Legal?
Related: Will I Fail a Drug Test From Smoking CBD?
UPDATE: Austin Rogers' Trivia Night is available for all to join via Zoom

Click here on Wed 11/16 by 8p EST to join in for your change to win prizes from us
The Gaf West is our favorite Irish pub in New York and a great place to go for a pint any time. Here's another reason to check it out–
Next week we're presenting Trivia Night there and it's hosted by 12-time Jeopardy! champion Austin Rogers. (He won $411,000 on the show– not bad.)
We'll have a Kushy Dreams pop-up shop with all of your favorites in legal cannabis (with exclusive event discounts.) Plus, we'll have free giveaways featuring those same favorites.
Head to Hell's Kitchen and hang with us. There will also be giveaways from our friends at Zero Gravity Craft Brewery. And there's no cover charge.
Who
You can some solo or with a team. 21+
When
Wednesday November 16, 2022
8:00pm+
Where
401 West 48th Street (48th and 9th)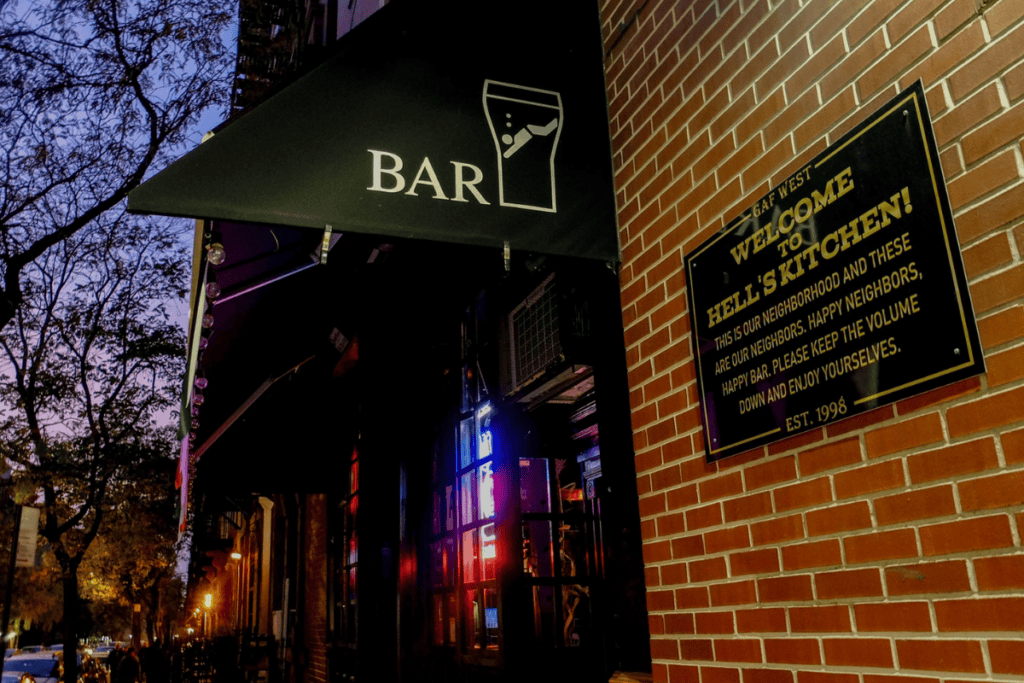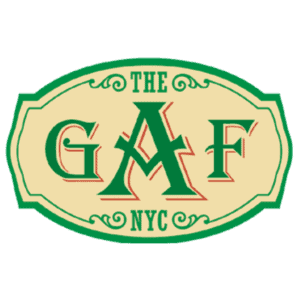 ___
Related: CBD Pre-Rolls vs. Delta-8 Pre-Rolls
Related: Thanks For Partying With Us
We appreciate everyone who came out on Saturday night to our Halloween party and Guttercat Gang meetup! We sold the place out and had a great time with great views. We gave away all sorts of Kushy Dreams merchandise too. It's great to see how much everyone is enjoying our new Limited Edition Artist Series.
The Roof at Park South in Manhattan was a great host. We'll have to return when the weather warms up again. Make sure to tag us in your pics on social!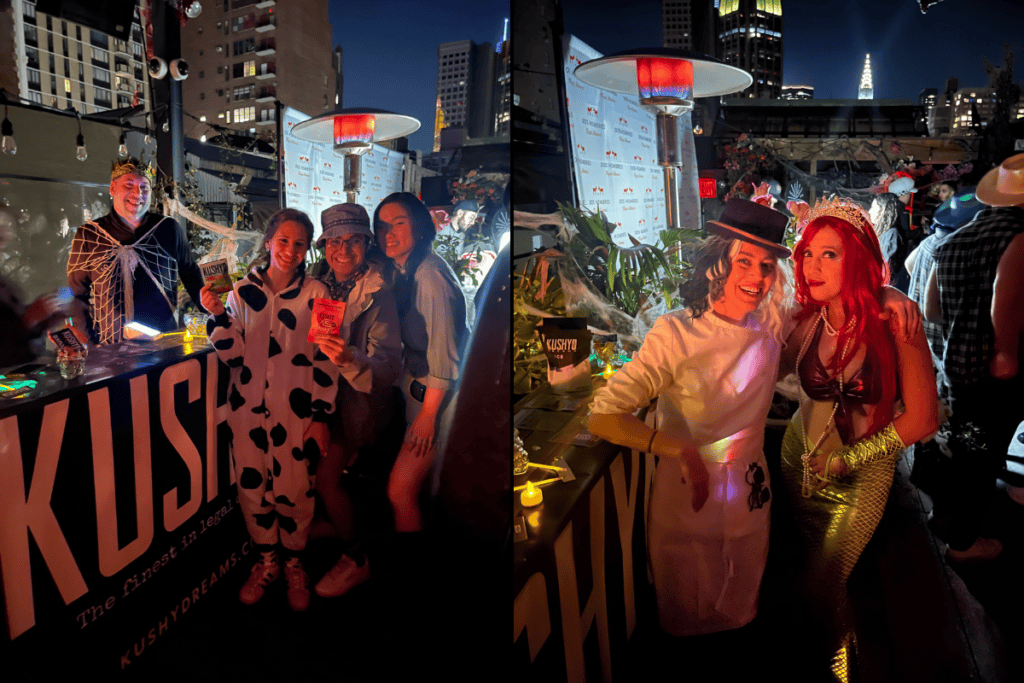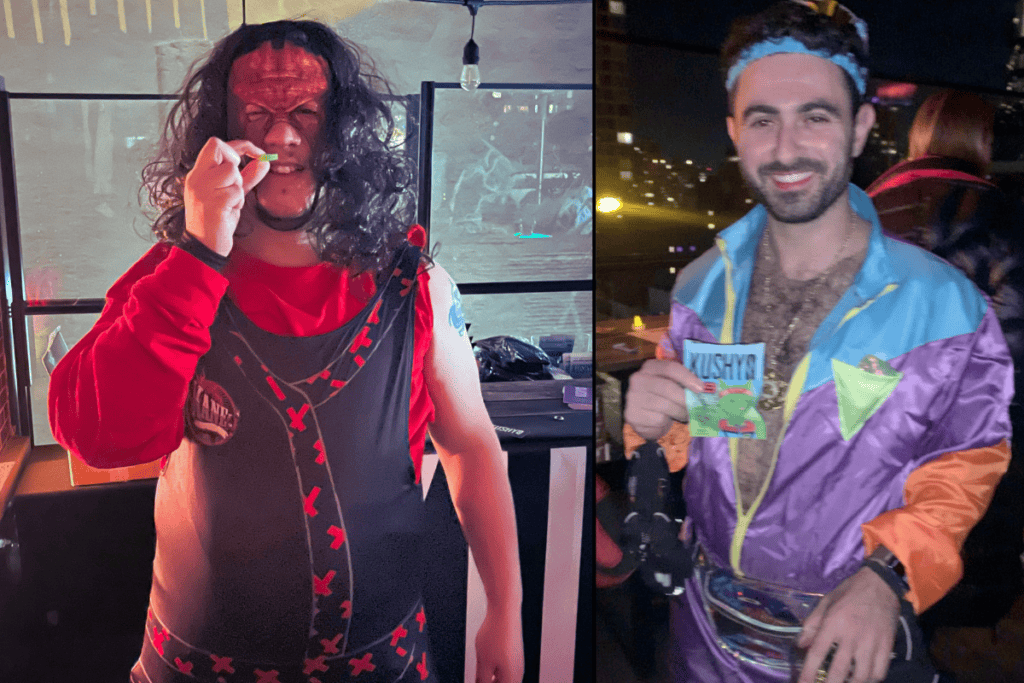 ___
Related: New Drop – Limited Edition Artist Series
Related: FAQ – Limited Edition Artist Series