The funniest, wildest night of comedy out there is Andrew Schulz's The Infamous Tour.
Schulz is a New York-based stand-up comic whose material is as smart as it is raw. He's known for sold out shows, great YouTube content, and hilarious podcasts.
We've been fans for a while and that's why we approached him about working together. Kushy Dreams is now the official CBD sponsor of Brilliant Idiots (with Charlamagne Tha God) and Flagrant 2 (with Akaash Singh.)
And now, Kushy Dreams is a sponsor of The Infamous Tour, which is touring theaters from coast to coast.
We support Andrew Schulz. We support great comedy. And we recommend that you do too.
The Infamous Tour also features great young comic, Mark Gagnon.
Is The Infamous Tour coming to your area? See Dates Below:
The Infamous Tour Dates
8/13 - HOUSTON, TX
8/14 - DALLAS, TX
8/18 - TUCSON, AZ
8/20 & 8/21 - LOS ANGELES, CA
9/3 & 9/4 - OKLAHOMA CITY, OK
9/10 - DETROIT, MI
9/11 - MILWAUKEE, WI
9/16 - SAN DIEGO, CA
9/19 & 9/20 - AUSTIN, TX
10/2 - LAS VEGAS, NV
10/8 - LOUISVILLE, KY
10/9 - CINCINNATTI, OH
10/16 - PHILADELPHIA, PA
10/22 - INDIANAPOLIS, IN
10/23 - WASHINGTON DC
11/6 - SAN FRANCISCO, CA
11/12 - MADISON, WI
11/13 - CHICAGO, IL
11/18 & 11/19 - MINNEAPOLIS, MN
11/20 - FARGO, ND
12/05 - JACKSONVILLE, FL
12/31 - BOSTON, MA
RELATED: Alex Jones Smokes Kushy Dreams
#SmokeYourCBD
Alex Jones Smokes Kushy Dreams CBD
Flagrant2, a podcast hosted by New York-based stand-up comics Andrew Schulz and Akaash Singh, recently featured a return visit by the most controversial guest in the show's history: the polarizing provocateur Alex Jones. On this wild episode, they covered everything from UFOs to Wonder Woman to the Paul brothers. The show also featured alcohol drinking, pizza eating, and CBD smoking.
"That looks like plants," a perplexed Jones remarked to noticing the CBD-rich hemp flower on the table. Schulz and Singh explained that it was CBD.
Schulz: "It's literally the same flower, it just doesn't have the THC." Then Singh pulled a half-gram Create pre-roll out of a 5 Pack and handed it to Jones.
The three enjoyed pre-rolls and continued their chat. They debated who was the most entertaining man on the planet and whether Austin, TX was changing for the better or worse. Show regulars, director Alexx Media and comedian Mark Gagnon, also chimed in.
This video podcast is absolutely not for everyone. We realize plenty of people loathe Alex Jones. We also realize that many will enjoy the energy between Andrew, Akaash, and Alex. It's wild, crazy, and hilarious.
Jones appeared on Flagrant2 earlier in the year but the episode was removed by YouTube. Will this one stay up? Check it out now while it's still up.
They smoke Kushy Dreams CBD pre-rolls between 1h:29m and 1h:38m [Direct Link Here]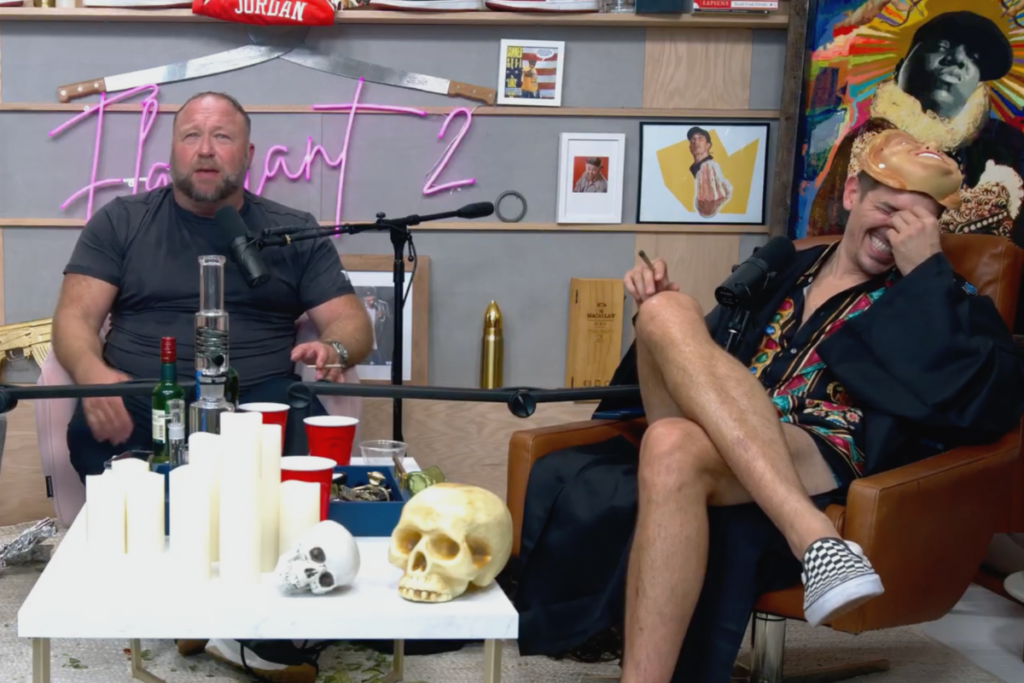 This episode is also available as an audio podcast via SoundCloud. You can check it out here.
What did you think of this podcast? Share with us on Facebook, Instagram, or Twitter.
Kushy Dreams is the official CBD sponsor of Flagrant2.

#SmokeYourCBD
Thanks to these great shows
From sports to news to comedy to music to interview shows to irreverent fun… we love podcasts. It's been really great to have teamed up with shows we love, hosts we love, and get introduced to some great new shows along the way. We've met a lot of talented podcast hosts who weren't strangers to hemp and cannabis but had never tried smokable CBD. Here's a shoutout to many of our past and present wonderful partners/CBD smokers.