We appreciate everyone who came out on Saturday night to our Halloween party and Guttercat Gang meetup! We sold the place out and had a great time with great views. We gave away all sorts of Kushy Dreams merchandise too. It's great to see how much everyone is enjoying our new Limited Edition Artist Series.
The Roof at Park South in Manhattan was a great host. We'll have to return when the weather warms up again. Make sure to tag us in your pics on social!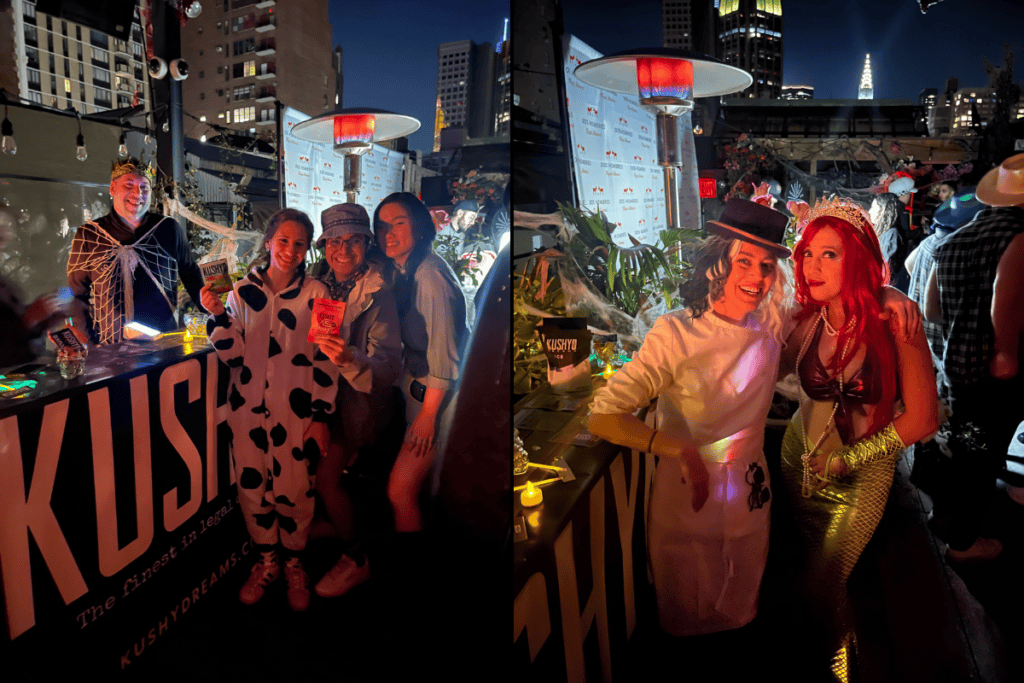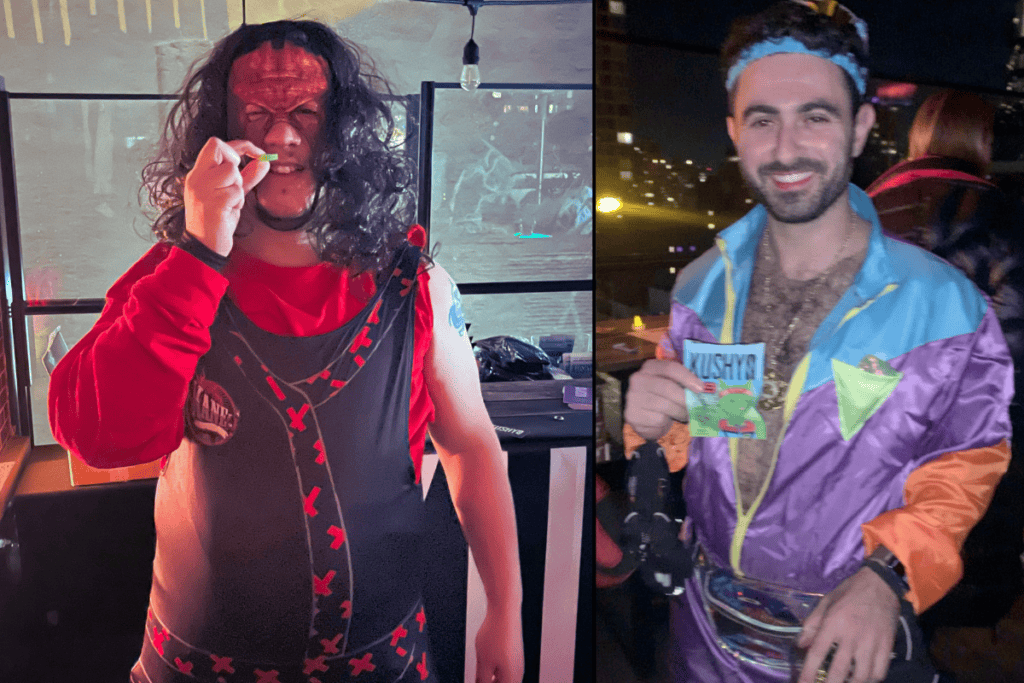 ___
Related: New Drop - Limited Edition Artist Series
Related: FAQ - Limited Edition Artist Series
Stavros Halkias is no longer part of the C-m Town podcast.
The comic/podcaster/model recently departed the popular NYC-based comedy podcast that's been a long-time partner of ours. He made an announcement via Twitter:
The reason for his departure was not made clear but he has been focusing more on stand-up. His recently stand-up special, Live At The Lodge Room, recently surpassed 2.5 million views on YouTube. Stavvy is a great comedic talent (and great guy) and we can't wait to see what he's up to next.
Cum Town, founded in 2016, still features original hosts Nick Mullen and Adam Friedland.
___
MORE: Stavros Halkias Live at the Lodge Room
MORE: Pod Don't Lie with Stav and Sam Morril
Does Bradley Martyn smoke weed? Not sure.
Does Bradley Martyn smoke Delta-8 THC? Maybe.
Does Bradley Martyn smoke CBD? Yes.
Bradley Martyn is one of the biggest fitness personalities in the world (not just in physical size… but he is a mass monster.) He's a gym owner, training gear and clothing mogul, Stevewilldoit's best friend, honorary Nelk Boy, and a wildly popular content producer on YouTube and Instagram.
And Bradley's not just some meathead– he's an interesting guy with charisma for days. That's why we wanted to sponsor his popular (and new-ish) podcast, Raw Talk, where he's had guests from all over the fitness world and YouTube personalities (like Sean O'Malley, Mike Majlak, Bryce Hall, Lana Rhoades, Bob Menery, Sommer Ray, and Ronnie Coleman.)
Bradley smokes an Energy CBD pre-roll on a recent episode of Raw Talk in the clip below. "This is the Energy, since I'm about to go to the gym," he said of the sativa joint. He's also looking us to make an even better pre-workout CBD smoke: "Where is the pre-roll, 'Pump'?"
He also said his preferred way to take CBD is by smoking: "The vibes are nice– and you don't get twisted."
Pump just might be Kushy Dreams x Bradley Martyn pre-workout collab. Stay tuned.
What's your favorite episode of Raw Talk? Share with us on Facebook, Instagram, or Twitter.
The funniest, wildest night of comedy out there is Andrew Schulz's The Infamous Tour.
Schulz is a New York-based stand-up comic whose material is as smart as it is raw. He's known for sold out shows, great YouTube content, and hilarious podcasts.
We've been fans for a while and that's why we approached him about working together. Kushy Dreams is now the official CBD sponsor of Brilliant Idiots (with Charlamagne Tha God) and Flagrant 2 (with Akaash Singh.)
And now, Kushy Dreams is a sponsor of The Infamous Tour, which is touring theaters from coast to coast.
We support Andrew Schulz. We support great comedy. And we recommend that you do too.
The Infamous Tour also features great young comic, Mark Gagnon.
Is The Infamous Tour coming to your area? See Dates Below:
The Infamous Tour Dates
8/13 - HOUSTON, TX
8/14 - DALLAS, TX
8/18 - TUCSON, AZ
8/20 & 8/21 - LOS ANGELES, CA
9/3 & 9/4 - OKLAHOMA CITY, OK
9/10 - DETROIT, MI
9/11 - MILWAUKEE, WI
9/16 - SAN DIEGO, CA
9/19 & 9/20 - AUSTIN, TX
10/2 - LAS VEGAS, NV
10/8 - LOUISVILLE, KY
10/9 - CINCINNATTI, OH
10/16 - PHILADELPHIA, PA
10/22 - INDIANAPOLIS, IN
10/23 - WASHINGTON DC
11/6 - SAN FRANCISCO, CA
11/12 - MADISON, WI
11/13 - CHICAGO, IL
11/18 & 11/19 - MINNEAPOLIS, MN
11/20 - FARGO, ND
12/05 - JACKSONVILLE, FL
12/31 - BOSTON, MA
RELATED: Alex Jones Smokes Kushy Dreams
#SmokeYourCBD
Thoughts from everyone's favorite pothead
Joe Rogan, everyone's favorite comic/podcaster/shaman/muscleman, is one of America's most prominent cannabis supporters. In addition to the psychoactive effects of THC he's enjoyed for years, Rogan also supports the benefits of the non-psychoactive cannabinoid CBD.
"CBD saves vacations for me," Rogan said on a 2019 episode of The Joe Rogan Experience. "I don't stress out. I think it's one of the best things I've ever tried for anxiety. It's weird, I didn't even know I had anxiety until I started to take CBD.
"It has no psychoactive properties. The only thing it's going to do for some folks is alleviate some anxiety. It just relaxes you."
Rogan, of course, has tried it by mixing THC and CBD in a 1:1 ratio: "The CBD/THC high is a different high because CBD does something to alleviate anxiety."
He also loves the topical. It's "probably the best thing I've for found for alleviating soreness and stiffness and stuff like that," he said.
Rogan, always the comic, threw in: "There seems to be no side effects... the side effects is people think you're a hippie."
Is Joe Rogan a doctor? Nope. So his thoughts are just his thoughts.
Sources
Joe Rogan "CBD is One of the Best Things I've Ever Tried for Anxiety" / 2019
Joe Rogan - The Benefits of CBD f/ Luis J. Gomez (2019)
The comic/podcaster smokes his CBD
Luis J. Gomez -- aka The Puerto Rican Rattlesnake -- is a long-time fan of smoking cannabis. Ever since we partnered up with him on the Real Ass Podcast and Legion of Skanks, he now smokes his CBD and loves smokable hemp. The comic, multiple-time Joe Rogan guest, and co-owner of the Gas Digital Network has been doing a really fun live video series (on Twitter/Periscope and Instagram Live) with us called The Fire Escape. The clever title was because he had been recording these live AMA smoke sessions from his apartment's Fire Escape in Harlem. He's since moved to suburban New Jersey so perhaps he'll need to rename it The New Jersey Burnpike.
Here's even more to check out: